LIBRARY OF BABEL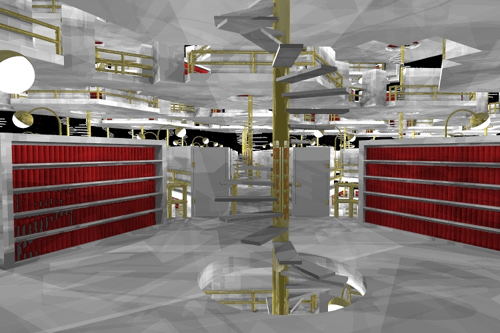 Someone produced this intriguing illustration of Jorge Borge's concept of the Library of Babel.
I don't know how or who. The photo was sent to me, and I hope that by posting it, one day someone
will help me identify the author so I can thank her/him for this marvelous work.

I am selecting our favorite links to put here. I think it is easy to find
a page with many link listings so there is no need to duplicate work. -Helen Smith



REAL - AUDIO & VIDEO I'm listing my favorites. My priorities are stations with a clear sound, disc jockeys who talk slow and enunciate the consonants, and conversation, rather than music.
VERB CONJUGATORS
TEXT-TO-SPEECH
Bell Labs - Lucent French TTS, German TTS, Spanish TTS
Elan The link takes you to the Elam page. From there, select "Demos". It is recommended that you change the voice speed from normal to slow. There are to French voices, Cathy and Robert, two German voices, Thomas and Dagmar, a Spanish voice, Rafael, and two Brazilian Portuguese voices, Pedro and Jacqueline.

TEXT READER

I used the Infovox Demo for a month and I liked it. It spoke clearly, it would read a document of any size, and you could ajust the speech speed with a number from1 to 50. Unfortunately, the webpage with the prices didn't work, and when I emailed the distributor to ask for a quote, I never received a reply. The download takes about 15 minutes using a 56K modem. Note: This a text reader. It doesn't save an output file.


SEARCH ENGINES
MSN INTERNATIONAL SITES
WEATHER
WEB PAGES FOR STUDENTS LEARNING ENGLISH WHO SPEAK ONE OF OUR LANGUAGES
THEME LINKS (experimental)


REFERENCE LINKS

E. L. Easton- A comprehensive listing of free internet resources for nine languages:
Spanish, Latin, Italian, German, Russian, Polish, Croatian, Albanian, Chinese
Human Languages Pages- Back when Basic Spanish for the Virtual Student, the fore-runner to HLP was the only other Spanish education page (3 lessons with pronunciation sound files). Today, HLP hosts links to following categories:
Aboriginal Languages, African, Afrikaans, Akha, Akkadian, Albanian, Arabic, Aragonese, Arberisht, Assyrian, Asturian, Bahasa Indonesia, Bahasa Malaysia, Basque, Belarusian, Bengali, Berber, Bisaya, Brahui, Breton, Bulgarian, Catalan, Cebuano, Cherokee, Cheyenne, Chinese, Chinook, Coptic, Cornish, Croatian, Czech, Dakota, Dalekarlian, Danish, Dolomitic Ladinian, Dutch, Eaiea, Egyptian, English, Esperanto, Estonian, Finnish, French, Frisian, Gaelic, Galician, Georgian, German, Gothic, Greek, Guarani, Gujarati, Hakka, Hawaiian, Hebrew, Hindi, Hmong, Hungarian, Icelandic, Ido, Interlingua, Inuktitut, Irish, Italian, Jérriais, Jakelimotu, Japanese, Kamilaroi, Kannada, Kerala/Malayalam, Khowar, Klingon, Konkani, Korean, Kreyol, Kurdish, Lakhota, Latin, Latvian, Lingua Franca, Lithuanian, Loglan, Lojban, Luganda, Macedonian, Malayalam, Maltese, Mandinka, Manx, Maori, Marathi, Mayan, Mingo, Mon, Mongolian, Montenegrin, Myanmar, Native American Languages, Neelan, Nepali, Nordic, Norwegian, Occitan, Ojibwe, Oneida, Papiamentu, Patois, Persian, Polish, Portuguese, Punjabi, Quechua, Romani, Romanian, Romansch, Russian, Sardinian, Saxon, Scanian, Scots, Sesotho, Sinhala, Slovak, Slovene, Somali, Spanish, Sranan, Sudovian, Swabian, Swahili. Swedish, Swiss, Talossan, Tamil, Tceqli, Thai, Tibetan, Tongan, Turkish, Ukrainian, Urdu, Vietnamese, Volapuk, Walloon, Welsh, Wolof, Yi, Yiddish, Yiklamu, Yugoslav
SCIENCE LINKS
FRENCH

CHIMIE ORGANIQUE- A collection of links concentrated with information; recommended for students who already have some background with the content

GERMAN PORTUGUESE SPANISH









We will be using SuperStats to track which pages you prefer the most.
When Tripod creates a feature that allows us to track which pages are viewed,
we will switch to their service.